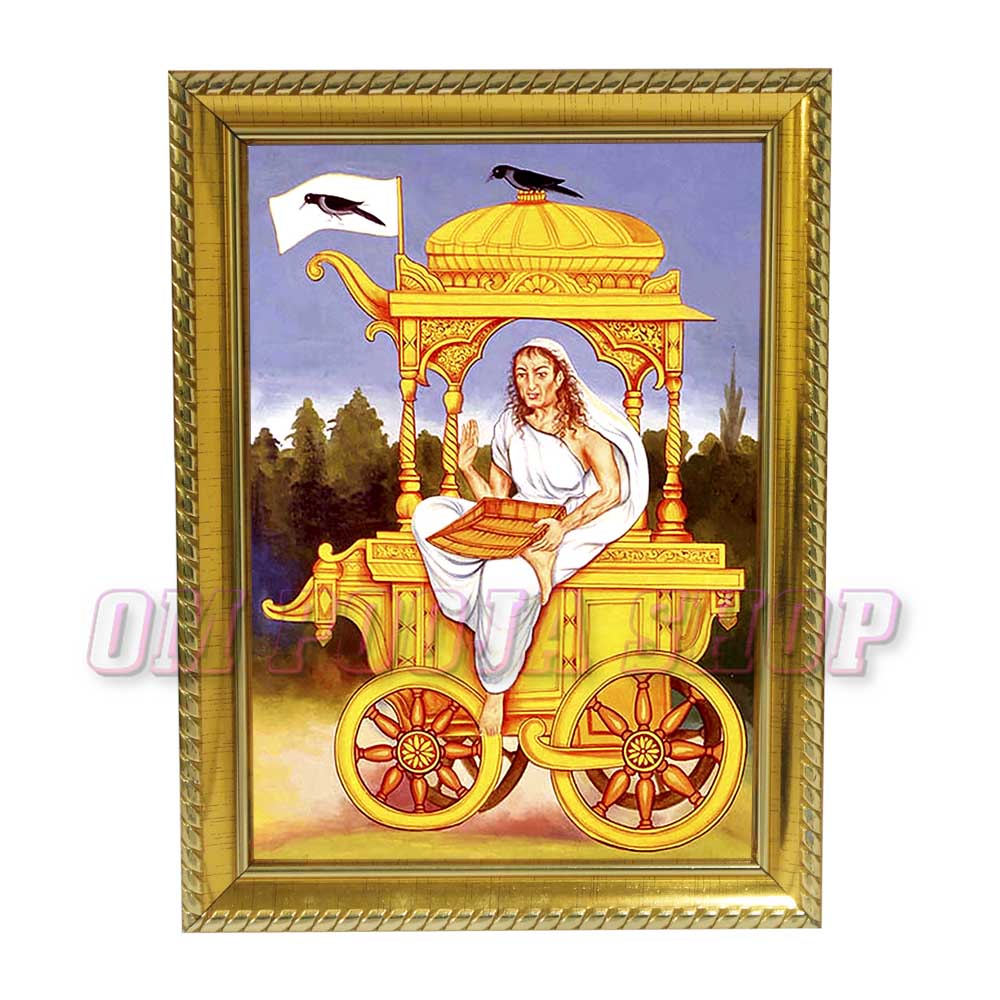 Dhumavati Mata Photo is secured in golden hand made wooden frame. It can be put in small temple or can be hang in wall. Dhumavati is one of the Mahavidyas, a group of ten Tantric goddesses. Dhumavati represents the fearsome aspect of Devi, the Hindu Divine Mother. She is often portrayed as an old, ugly widow, and is associated with things considered inauspicious and unattractive in Hinduism, such as the crow and the Chaturmas period. The goddess is often depicted on a horseless chariot or riding a crow, usually in a cremation ground.
Dhumavati is said to manifest herself at the time of cosmic dissolution (pralaya) and is "the Void" that exists before creation and after dissolution. While Dhumavati is generally associated with only inauspicious qualities, her thousand-name hymn relates her positive aspects as well as her negative ones. She is often called tender-hearted and a bestower of boons. Dhumavati is described as a great teacher, one who reveals ultimate knowledge of the universe, which is beyond the illusory divisions, like auspicious and inauspicious. Her ugly form teaches the devotee to look beyond the superficial, to look inwards and seek the inner truths of life.
Invoke the blessings of Dhumavati Mata Photo in Wooden Frame by installing in your puja altar, prayer room, office cabin or living area.
Dimensions: 6 inches (L) x 8 inches (H)
Mantra: Dhum Dhum Dhumavati Svaha ||
Printed on high quality photo paper with fine finishing.
INDIA SHIPPING CHARGE:
Flat shipping charge will be Rs 75.
Cash on Delivery (COD) is available above Rs. 700.
OUT OF INDIA SHIPPING CHARGE:
US$ 12 for shipment weighing upto 500 gms applicable for following countries: USA, U.K., Canada, Netherlands, U. A. E., Denmark, Italy, Poland. Belgium, France, Bangladesh, Hungary, Romania, Sweden, Switzerland, Austria, Germany, Spain, Ireland, Slovakia.
US$ 20 for shipment weighing upto 500 gms applicable to rest of the world including: Brazil, Singapore, Malaysia, Thailand, Australia, Congo, Greece, Indonesia, Latvia, Lithuania, Kazakastan, Malta, Mozambique, Norway, Panama, Reunion Island, Russia, South Africa, Taiwan, Trinidad and Tobago.
Dhumavati Mata Photo in Wooden Frame
Our Clients Speak