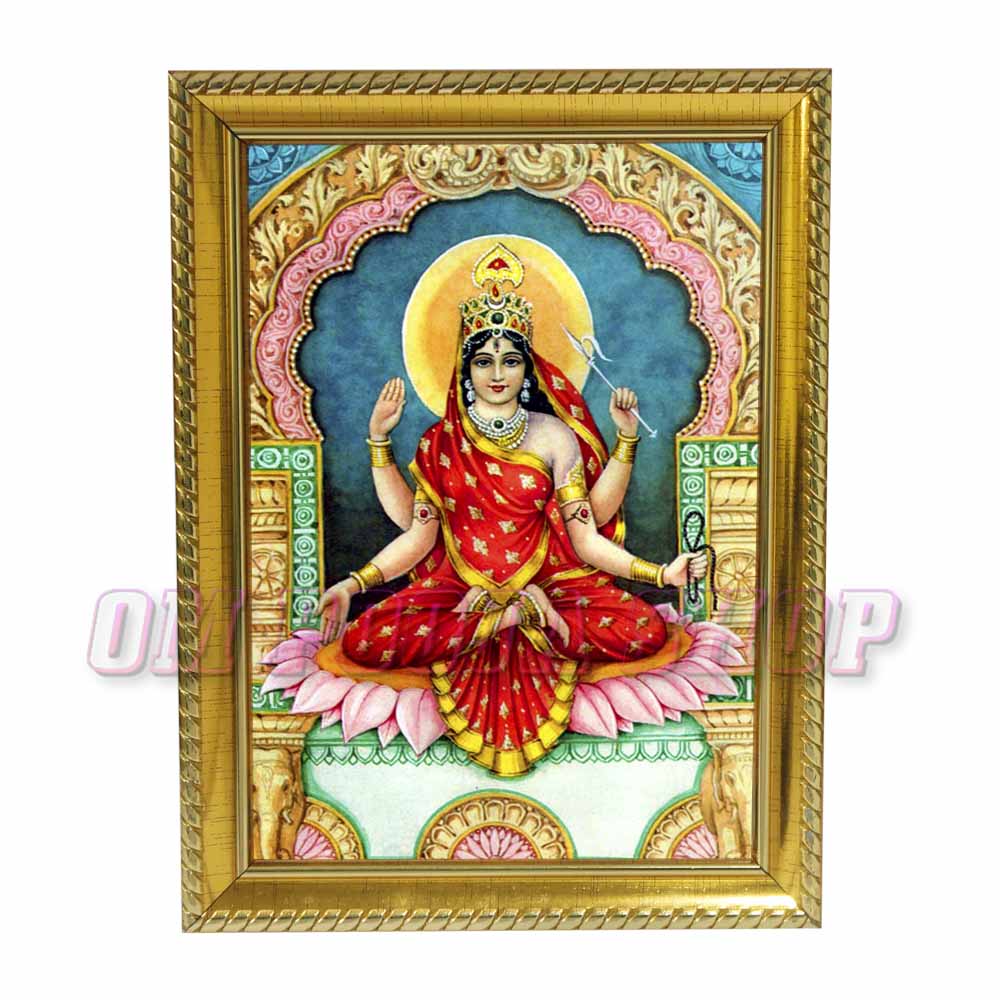 Bhuvaneshwari Mata Photo is secured in golden wooden frame. Bhuvaneshvari or Bhuvaneshwari is the fourth amongst the ten Mahavidya goddesses in Hinduism, and an aspect of Devi or Durga as elements of the physical cosmos in giving shape to the creation of the World.
She is the Divine Mother as the Queen of all Worlds. The entire Universe is said to be her body and all beings are ornaments of her infinite being. She carries all the worlds as a flowering of her own Self-nature. She is thus related to Tripura Sundari, the supreme Lady of the Universe. She is also known as Adi Parashakti or Parvati, i.e. one of the earliest forms of Shakti. She is capable of turning situations according to her wish. It is considered that even the navagrahas and Trimurti cannot stop her from doing anything. Her consort is Lord Lingaraj, an incarnation of Shiva.
Invoke the blessings of Bhuvaneshvari Mata Photo in Wooden Frame by installing in your puja altar, prayer room, office cabin or living area.
Dimensions: 6 inches (L) x 8 inches (H)
Mantra: ॐ ह्रीं भुवनेश्वरी देव्यै नमः सौं सर्वात्मकं सर्वोपचारं मनसा परिकल्प्य समर्पयामि |
Printed on high quality photo paper with fine finishing.
INDIA SHIPPING CHARGE:
Flat shipping charge will be Rs 75.
Cash on Delivery (COD) is available above Rs. 700.
OUT OF INDIA SHIPPING CHARGE:
US$ 12 for shipment weighing upto 500 gms applicable for following countries: USA, U.K., Canada, Netherlands, U. A. E., Denmark, Italy, Poland. Belgium, France, Bangladesh, Hungary, Romania, Sweden, Switzerland, Austria, Germany, Spain, Ireland, Slovakia.
US$ 20 for shipment weighing upto 500 gms applicable to rest of the world including: Brazil, Singapore, Malaysia, Thailand, Australia, Congo, Greece, Indonesia, Latvia, Lithuania, Kazakastan, Malta, Mozambique, Norway, Panama, Reunion Island, Russia, South Africa, Taiwan, Trinidad and Tobago.
Bhuvaneshwari Mata Photo in Wooden Frame
Our Clients Speak