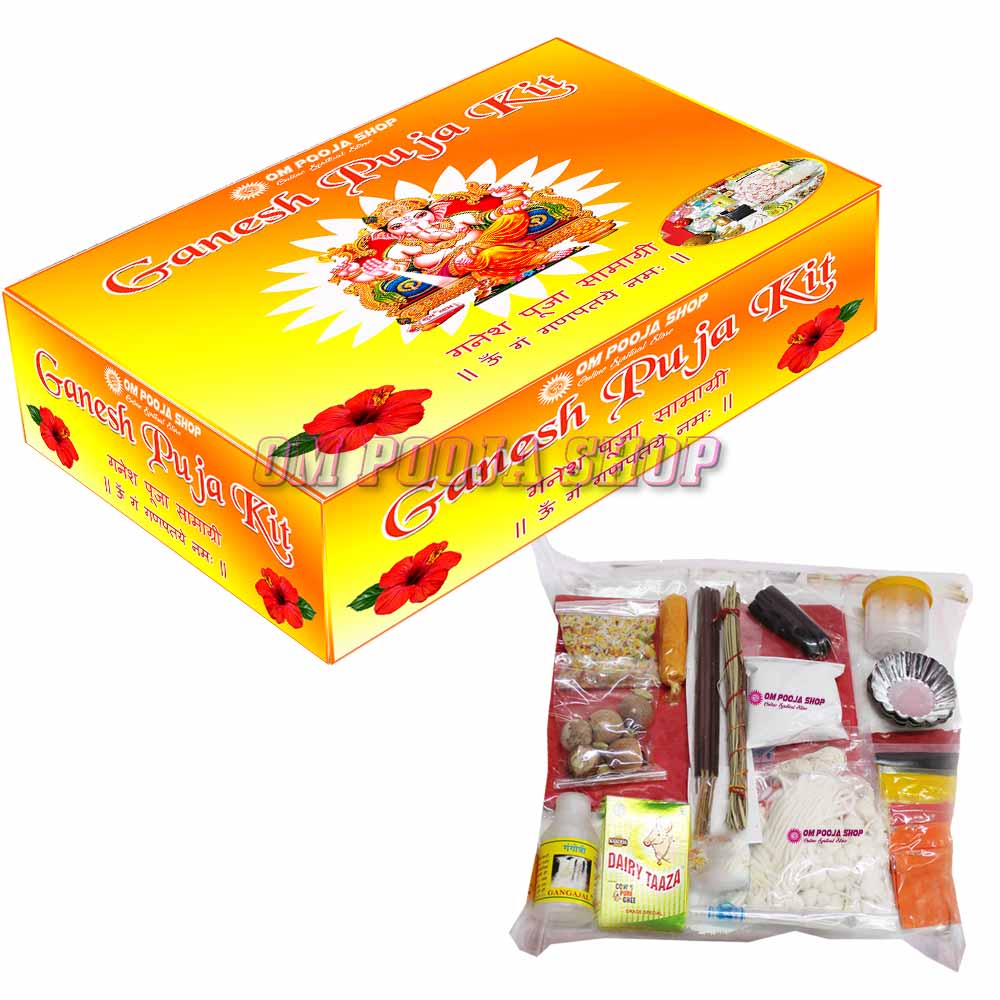 The complete Puja Samagri which is Uses in Lord Ganesh Puja or Ganpati Festival. This Ganesh Puja kit is used daily puja rituals or during Ganesh Chaturthi, and for all rituals involving worshiping Lord Ganesha. We are provide best quality and max quantity is sufficient for all type of puja samagri.
Lord Ganesha is the first to be worshiped in any puja. Lord Vinayaka, Ganesh ji, Ganpati ji, Vinayaka is the darling of the devotees. Although he is known by many attributes, Ganesha's elephant head makes him easy to identify. Ganesha is widely revered as the remover of obstacles, the patron of arts and sciences and the deva of intellect and wisdom. As the god of beginnings, he is honored at the start of rites and ceremonies. Ganesha is also invoked as patron of letters and learning during writing sessions.
Contents / Items of Ganpati Puja kit:

Ganesh pooja book
Ganesh pooja CD
Ganesh Photo
Gangajal-50ml [Holy water]
Gomutra-25ml [Cow urine]
Itra-3ml [Fragrance oil]
Akshada Rice- 50 grams [Coloured rice]
Incense Sticks-11 sticks [Agarbatti]
Honey Small bottle [madhu]
Sandal paste -20gms [Ready to use tilak]
Kapur packet- 60 pieces [Camphor]
Haldi, Kumkum, Abir, Gulal, Gopichandan, astagandha powder, sindoor, rangoli (75 gms approx)
Ghee-pkt small
Janeo-1 [Holy thread]
Deity offerings (dry fruits, candy sugar) - 75 grams
Supari, Clove, Cardamon - 5pcs each [betelnut]
Red Cloth - 1 meter piece [Altar cloth]
Dhoop batti (1pkt) [Dhoop incense]
Prasad containers [10 pcs]
Diya-1 [Ready to use diya]
Holy thread- 1 roll [Raksha sutra]
Cotton wicks round & long (vatis)
kapus vastra- 1 set
Darbha grass -1 bundle
Weight: 1 kgs approx
Packaging: All items are packed in secure plastic bag.

Ganesh Puja Kit
Our Clients Speak