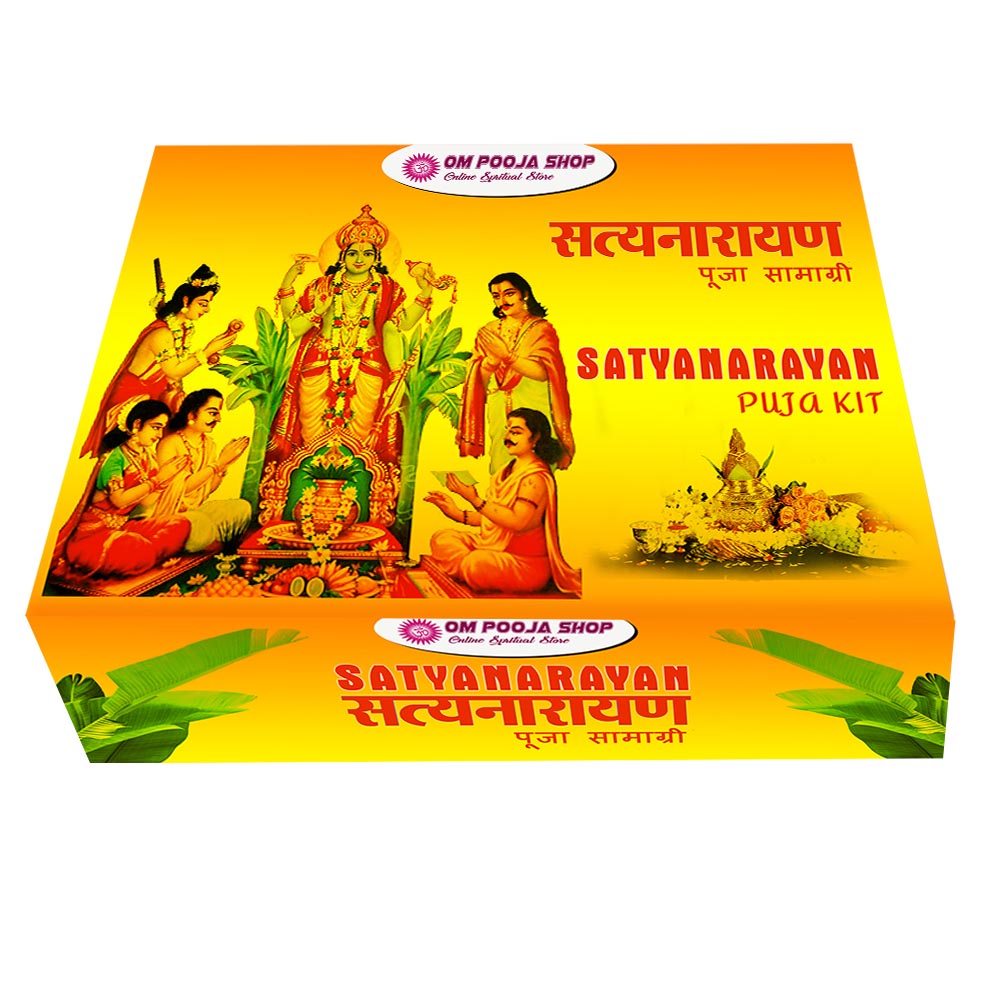 Om Pooja Shop presents Shree Satyanarayan Puja Kit. This complete Puja Samagri set which is used any time in Shree Satyanarayan Puja. The Satyanarayan Puja is a religious worship of the Hindu god Vishnu. Satya means "truth" and narayana means, "The highest being" so Satyanarayan means "The highest being who is an embodiment of Truth". Vrat or Puja means a religious vow, religious observance, or obligation. Hindus throughout perform Sri Satyanarayan Vrat for the divine blessings of health, wealth, prosperity, opulence, education; relief from troubles and sickness. It can also be performed because of success in business or career growth; during social functions like marriages, house-warming ceremonies, naming of the children and so on.
Contents / Items of Shree Satyanarayan Puja Kit:
Satyanarayan pooja book
Satyanarayan pooja CD
Satyanarayan Photo
White Altar Cloth - 1 meter
Red Altar Cloth - 1 meter
Janeu Thread - 2 pcs
Gomutra (cow urine) - 30 ml
Gulabjal (Rose water) - 100 ml
Mouli (holy thread)
Kapus Vastra
Holy Gangajal from Gangotri - 50 ml
Ready Ghee Diya - 5 pcs
Astagandha, Sindur, Gulal, Haldi & Kumkum - 5 grams each
Deshi Ghee - 50 ml
Dhoop stick - 10 pcs
Betel Nut (Supari) - 5 pcs
Clove (Longa) - 5 pcs
Cardamom (Ilachi) - 5 pcs
Akshat Rice - 50 grams
Dry Fruit (Panchmeva) - 50 grams
Honey Small
Small High Quality Attar
Kapur (camphor) - 60 grams
Row Termoric (Khadi Haldi) - 5 pcs
Agarbatti - 10 pcs
Long Cotton wicks, Round Batti
Total weight: 1 kgs approx
Packaging: All items are packed in secure plastic bag.

Shree Satyanarayan Puja Kit
Our Clients Speak