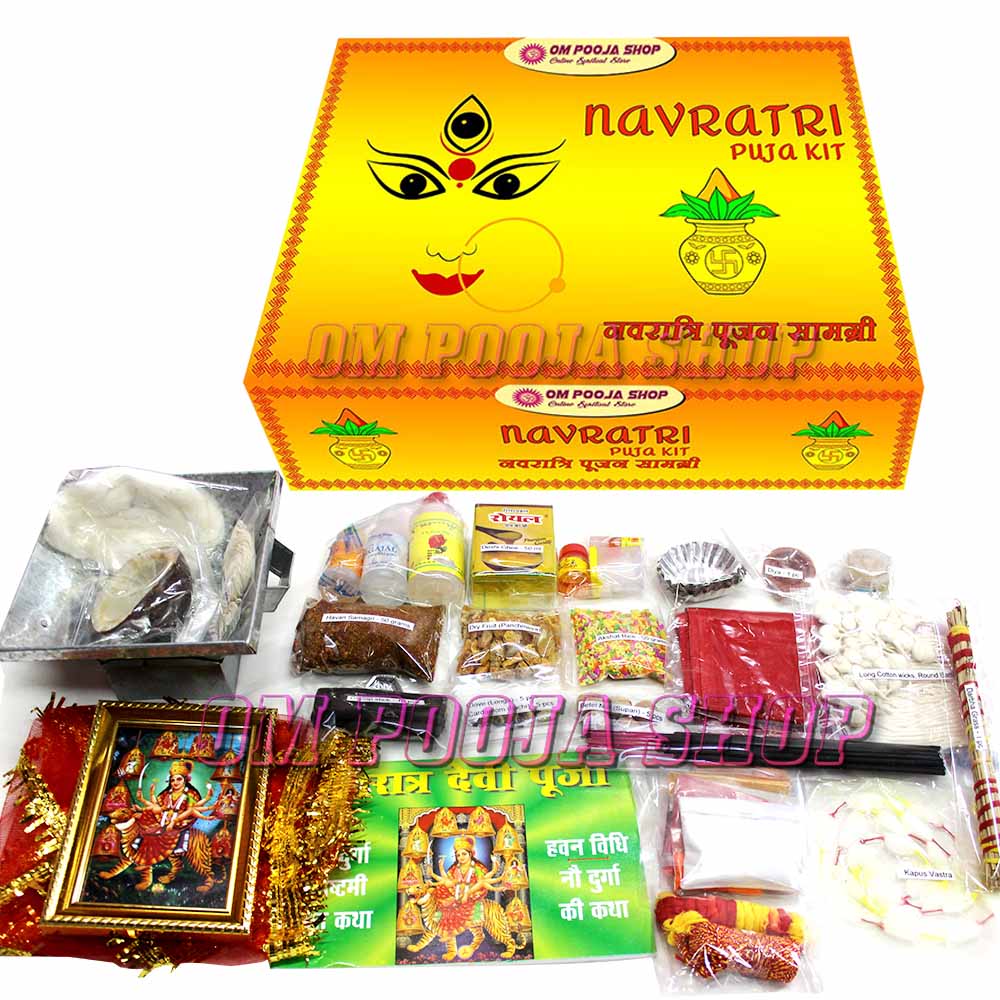 Om Pooja Shop presents Navratri Puja Kit for worship of Goddess Durga Nine form. This is complete Puja Samagri set which is used any time in Goddess Durga Puja and Navratri festival. Navratri is amongst the most important Hindu festivals. This auspicious festival is celebrated with great zeal and devotion throughout the country, it is a pious festival celebrated in the honor of nine different forms of the Goddess Durga for nine continuous days; namely Shailaputri, Brahmacharini, Chandraghanta, Kushmanda, Skandamata, Katyayani, Kaalratri, Maha Gauri & Siddhidatri. It's far duration of solemnity and fasting, purification and introspection.
The Navratri festival, or Navratras is is the festival of power and worshipping of Goddess Durga in its nine incarnations. Our Navratri Pooja Kit is based on vast experience from age old traditions and practices shared by several Pandit Ji specialists in Navratri Pooja vidhi. It contains all the required Pooja articles for Navtartri Pooja of nine days. It contains a complete kit for decorating the infinite form of energy, the Supreme Goddess. It has all the items you would need to decor the Goddess during Navratri.
Contents / Items of Navratri Puja Kit:
Durga pooja book
Nav Durga Photo
Red Altar Cloth - 1 meter
Red Mata ji ki chunri
Janeu Thread - 2 pcs
Gomutra (cow urine) - 30 ml
Gulabjal (Rose water) - 100 ml
Mouli (holy thread)
Kapus Vastra
Holy Gangajal from Gangotri - 50 ml
Diya - 1 pc
Astagandha, Sindur, Gulal, Haldi & Kumkum - 5 grams each
Deshi Ghee - 50 ml
Dhoop stick - 10 pcs
Betel Nut (Supari) - 5 pcs
Clove (Longa) - 5 pcs
Cardamom (Ilachi) - 5 pcs
Akshat Rice - 50 grams
Dry Fruit (Panchmeva) - 50 grams
Honey Small
Darbha Grass - 1 pc
Small havan kund - 6 inches
Havan Samagri - 50 grams
Small High Quality Attar
Kapur (camphor) - 1 pack
Row Termoric (Khadi Haldi) - 5 pcs
Agarbatti - 10 pcs
Long Cotton wicks, Round Batti
Cow Dung Cake - 5 pcs
Total weight: 2.5 kgs approx
Packaging: All items are packed in secure plastic bag.

Navratri Puja Kit
Our Clients Speak