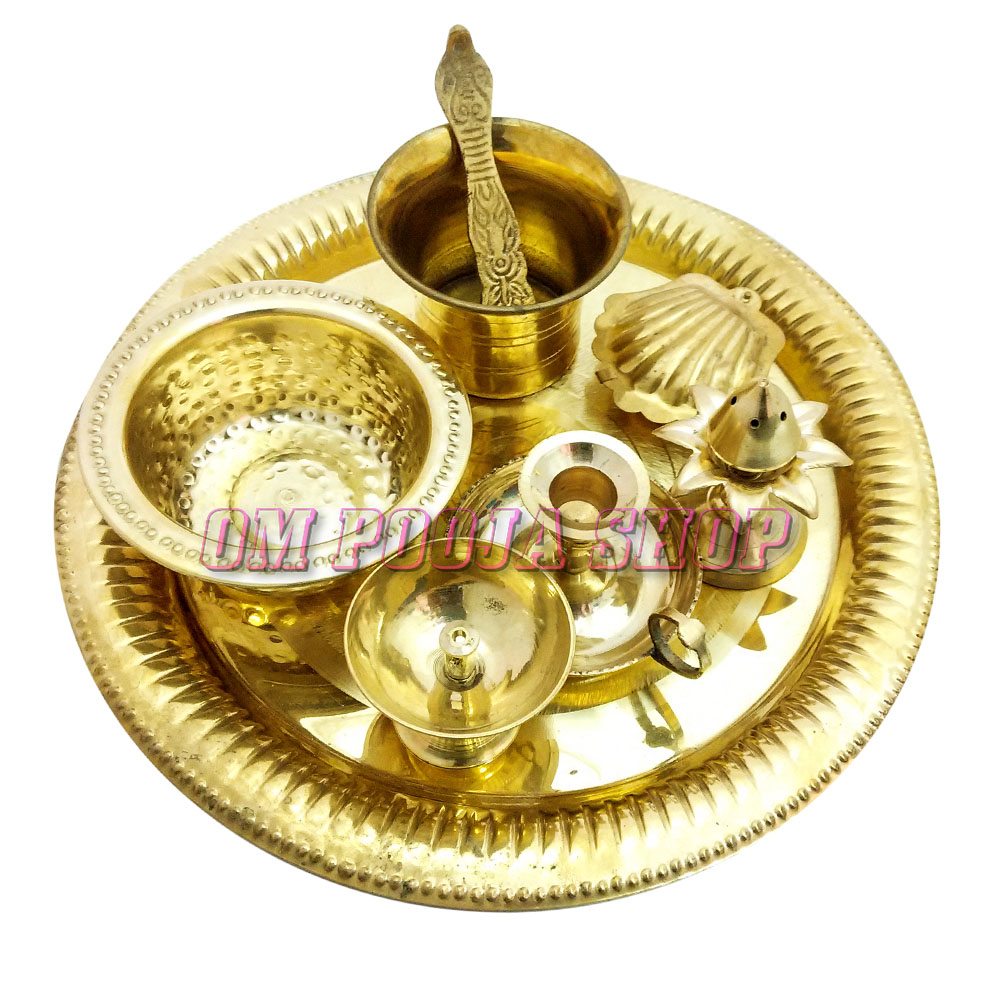 Arpan Offering Pooja Thali in Brass This Exclusive Pooja Thali set is made of the finest brass, which will add elegance and charm to your Pooja room. The puja items kept in a puja plate include Roli for tilak, Akshat, Prasadam, a small Kalash filled with water, Kalava to tie around the wrist, aarti-diya and some colorful flowers. The puja thali has special significance for Arpan (Offering) to Deity in the festivals.
Agarbatti, camphor, coconut, belpatra, betel leaves, sandalwood paste, candles, flowers, seasonal fruits and sweets (as Prasad) and silver or gold coins having image of Goddess Lakshmi, Lord Ganesh, Om, Swastika or Shree are also kept in a thali.
Material: Shining brass.
Contents: Thali (Plate) with Kalash incense holder, Candle Holder Diya, oil lamp, Kumkum container, Designer Bowl, Pali and Panchpatra.
Dimensions:
Plate: 9 inches (Top Daimeter)
Diya: 1.5 inches (H) x 2 inches (Top Daimeter) x 1.25 inches (W)
Incense holder: 2 inches (H) x 2.6 inches (max diameter)
Candle Holder: 2 inches (H) x 3 inches (diameter) x 3.5 inches (L)
Pali: 0.5 inch (H) x 4.5 inches (L)
Panchpatra: 2.5 inches (H) x3 inches (L) x 2.25 inches(W)
Bowl: 1.75 inches (H) X 4 inches (top diameter) x 2.75 inches (base diameter)
Kum Kum Container: 1 inch (H) x 2.5 inches (L) x 1.6 inches (W)
Total weight of the set: 700 grams approx
INDIA SHIPPING CHARGE:
Flat shipping charge will be Rs 75.
Cash on Delivery (COD) is available above Rs. 700.
OUT OF INDIA SHIPPING CHARGE:
US$ 12 for shipment weighing upto 500 gms applicable for following countries: USA, U.K., Canada, Netherlands, U. A. E., Denmark, Italy, Poland. Belgium, France, Bangladesh, Hungary, Romania, Sweden, Switzerland, Austria, Germany, Spain, Ireland, Slovakia.
US$ 20 for shipment weighing upto 500 gms applicable to rest of the world including: Brazil, Singapore, Malaysia, Thailand, Australia, Congo, Greece, Indonesia, Latvia, Lithuania, Kazakastan, Malta, Mozambique, Norway, Panama, Reunion Island, Russia, South Africa, Taiwan, Trinidad and Tobago.
Arpan Offering Pooja Thali in Brass
Our Clients Speak