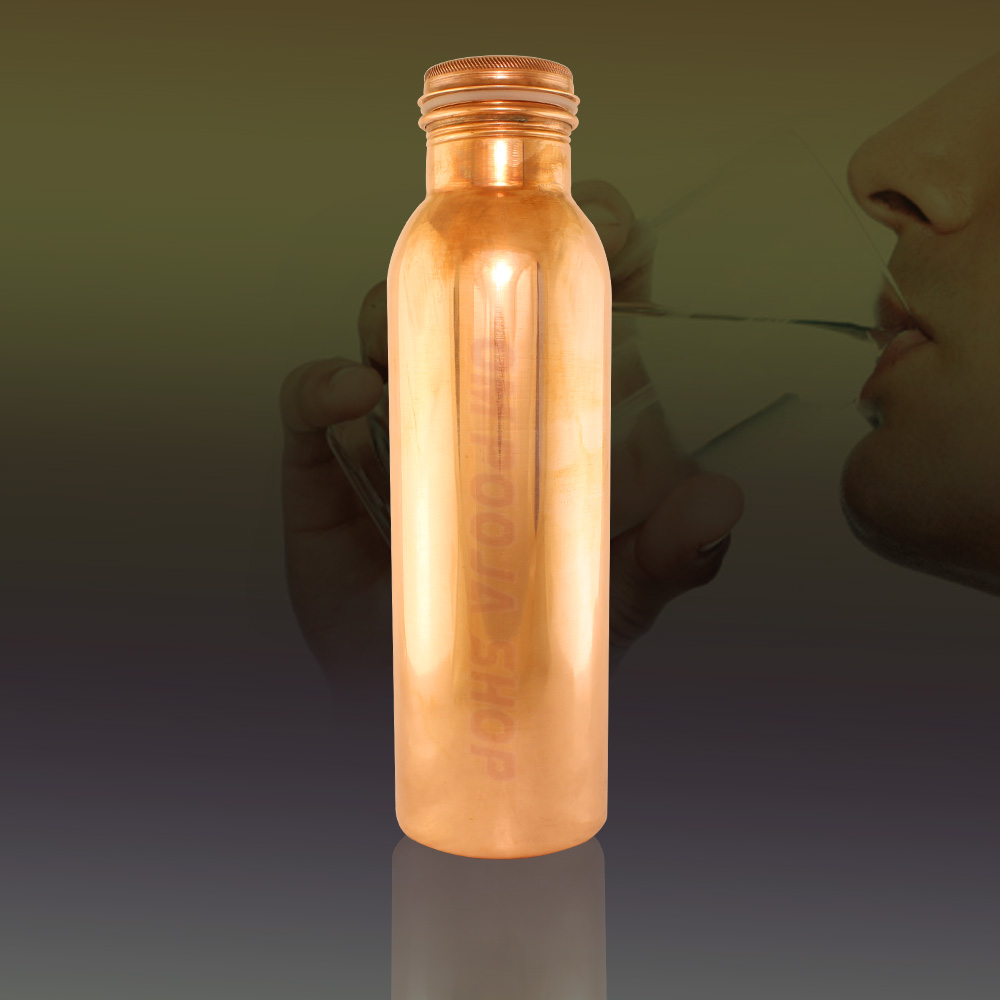 Copper very good for our health this bottle made in pure copper and given fine finish. This bottle can fill upto 950 ml of water. Drink water from a copper Bottle to reap numerous health benefits. Elders in the family emphasise on many home remedies, one of them being drinking water in copper bottle. It is considered very beneficial for our health.
According to Ayurveda, water stored in a copper vessel has the ability to balance all the three doshas in your body, (vata, kapha and pitta) and it does so by positively charging the water. The water stored in a copper vessel is known as 'tamara jal' and is supposed to be consumed after storing the water in a copper vessel for at least eight hours.
When water is stored in a copper vessel, the copper gently leaches into the water and lends it all its positive properties. The best part about this water is that it never becomes stale and can be stored this way for long periods of time.
Size: 10 inches (H) x 2.8 inches (Diameter) (25 x 7 cm) approx
Weight: 250 grams approx
Benefit:
1 - Helps the digestive system perform better.
2 - Helps in weight loss.
3 - Helps heal wounds faster.
4 - Slows down ageing.
5 - Helps maintain cardiovascular health and beats hypertension.
6 - Copper is known to be oligodynamic in nature (the sterilizing effect of metals on bacteria), and can destroy bacteria very effectively.
7 - Stimulates your brain power.
8 - Regulates the working of the thyroid gland.
9 - Helps to remove arthritis and inflamed joints.
Copper is well known for its grasping capacity.It grasps the divine spirit (sattvikta) upto 30%,when compared to other metals.So, copper is considered to be holy & auspicious all the time.Copper can destroy bad spirits like Raj & Tam (i.e.darkness & bad behavior).The spiritual vibrations are attracted towards copper items easily.Just as copper has the ability to absorb the sattvik frequencies of deities,it has also capacity of transmitting them.Thus it becomes rich in divinity in a short period.
Copper Bottle for Water
Our Clients Speak