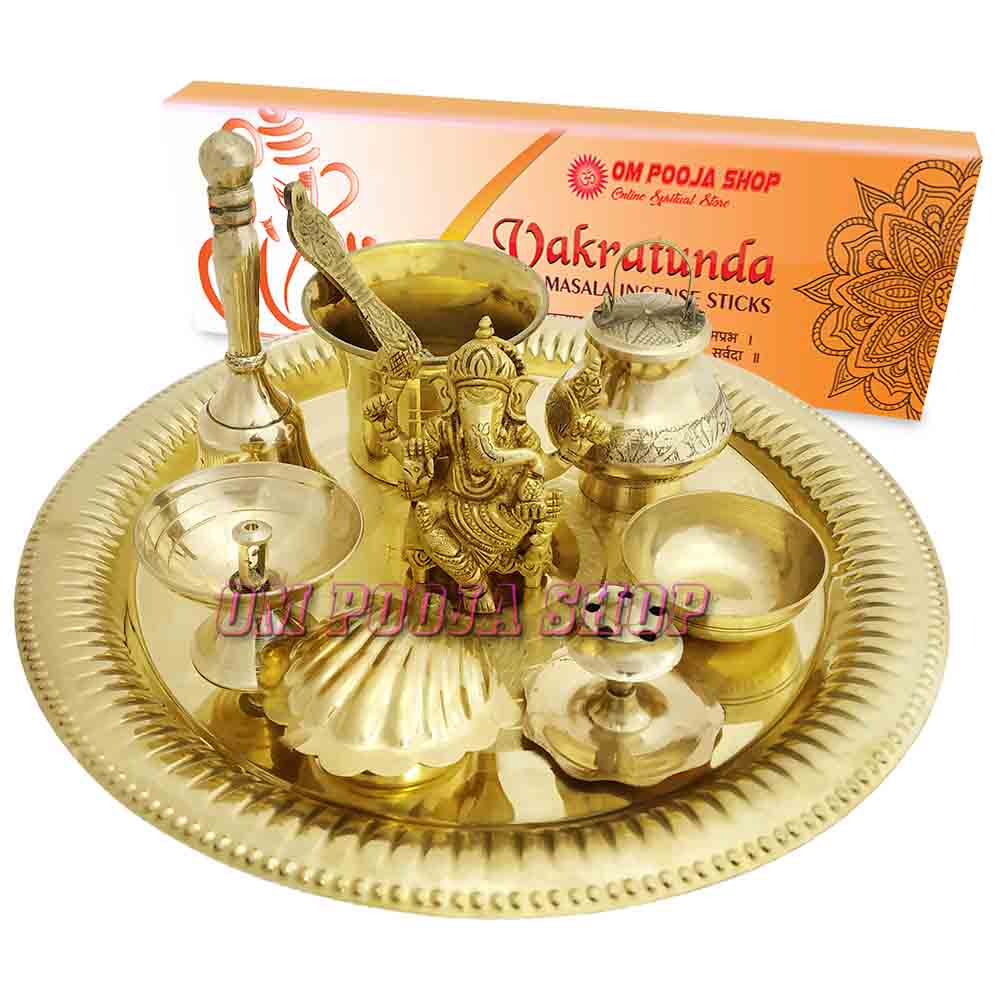 The Unique Poojan thali set of Lord Ganesha. This Ganesh Poojan Thali Set is made of the finest brass with Vakratunda Agarbatti Incense sticks. Lord Ganesha is Vighneshvara or Vighnaraja or Vighnaharta the Lord of Obstacles, both of a material and spiritual order. He is popularly worshipped as a remover of obstacles, though traditionally he also places obstacles in the path of those who need to be checked. Paul Courtright says that "his task in the divine scheme of things, his dharma, is to place and remove obstacles. It is his particular territory, the reason for his creation.
This Ganesh Poojan Thali is used in the puja items kept in a puja plate include Lord Ganesha Idol, Roli for tilak, Akshat, Ghanti (bell), a small Kalash filled with water, Kalava to tie around the wrist, aarti-diya and some colorful flowers. The puja-thali has special significance for the festivals.
Agarbatti, camphor, coconut, belpatra, betel leaves, sandalwood paste, candles, flowers, seasonal fruits and sweets (as Prasad) and silver or gold coins having image of Goddess Lakshmi, Lord Ganesh, Om, Swastika or Shree are also kept in a thali.
Made: Made of shining brass.
Contents: Lord Ganesh Idol, Vakratunda Masala Incense sticks, Thali, incense holder, haldi kumkum container, oil lamp, bell, pali, panchpatra, kamandal, vati
Dimensions:
Ganesha Idol: 3 inches (H) x 2.75 inches (W) x 1.75 inches (depth) (7.7 x 7 x 4.5 cm) approx
Vakratunda masala Incense: 100 grams
Plate: 9 inches (Top Daimeter)
Diya: 1.5 inches (H) x 2 inches (Top Daimeter) x 1.25 inches (W)
Incense holder: 1.75 inches (H) x 2 inches (L)
Bell: 3.5 inches (H) x 1.5 inches (W)
Pali: 0.5 inch (H) x 4.5 inches (L)
Panchpatra: 2.5 inches (H) x3 inches (L) x 2.25 inches(W)
Kamandal: 3.5 inches (H) x 1.5 inches (W)
Vati: 0.75 inch (H) x 2.25 inches(Top Daimeter)
Kum Kum Container: 1 inch (H) x 2.5 inches (L) x 1.6 inches (W)
Total weight of the set: 900 grams approx
Ganesh Poojan Thali Set
Our Clients Speak