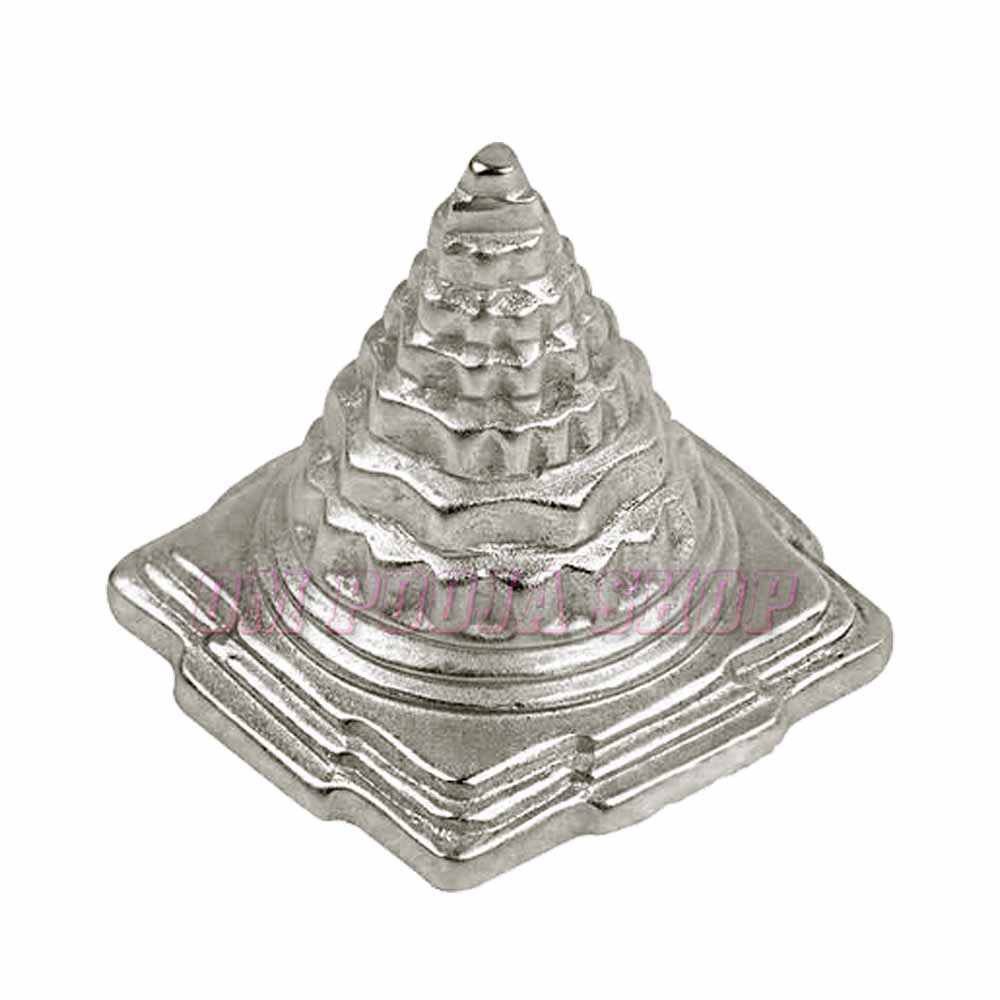 Mercury Sri Yantram is made of Mercury / Parad which was Complete with 8 Sanskars (8 stage of Purifications done as per Parad Sanmhita). Shree Yantram is considered to be the greatest and most rewarding instrument. Many people consider Shree Yantra as a Lakshmi instrument too. According to religious belief, money from the worship of Shri Yantra opens up by arrival. This yantra gives maximum benefits wealth, health and good lucks. Parad Sri Yantra is the most powerful yantra in all yantras according to our vedic astrology. Shree Yantra helps in breaking down obstacles and negativities. Yantra acts as a good conductor of energy and blesses the individuals with wealth, name, peace and harmony.
Shree Tripura sundari is considered as Shree yantra aradhya devi, by establishing this yantra, dying out all worries due to worshiping it lawfully. As a result, positive energy will develop and prosperity will be achieved.
Sri Yantra gives maximum benets to almost everybody possessing it. It is considered the most auspicious, important and powerful instrument. Shree Yantra is a Sanskrit name where Sri - meaning Wealth and Yantra - meaning Instrument. It has a direct connection with Goddess Lakshmi, the Hindu deity for fortune, prosperity, and wealth. Therefore it has enormous power to fulll all our desire for prosperity through inner cosmic powers.
Sri Yantra is a solution to all the negativity and diculties in our life. Many times we and that life is out of our control. We face many obstacles like how much we try and work hard, the result does not come positive. We face stress, anxiety, friction in the relationship with others, bad investments, faltering business, stagnation in life and profession, decreasing nancial prospects, insecure feeling, repeated failure, and sheer bad luck. This is due to the negative energy in our life. That how much effort we make also, we become a failure. Shree Yantra helps removal of this negative energy and brings peace and harmony Sphatik is a power stone. It enhances energy by absorbing, storing, amplifying, balancing, focusing and transmitting. Sphatik is a stone of clarity and dispels negativity.

Benefits of Sri Yantra
1. It helps in attaining fortune, wealth and overall prosperity in one's life.
2. It brings name, fame and good luck to the family or organization, company, which possesses this incredible Vedic instrument.
3. It drives an individual on success path and clears the obstacles.
4. Sri Yantra also gives mental peace and stability.
5. Sri Yantra helps in growing the spiritual self by helping the individual to get rid of all the impurities and attain a pure state of mind.
6. It has the great potential to liberate an individual from the cycle of birth and death.
Placement: Yantra energizes the location where it is installed. You may place it near the entrance of your home/office/shop or in your living room or reception or study room or cabinet. You may keep it on a table. Yantra is best placed in the North East direction. It gets energized by the rising rays of the Sun and with the divine vibrations of the East corner and provides positive transformation energies to the dwelling through its mystical geometry.
Dimensions: 1.4 inches (L) x 1.4 inches (W) x 1.5 inches (H) (3.5 x 3.5 x 4 cm) approx
Weight: 120 grams approx
Mantra: ऊं श्रीं ह्रीं श्रीं कमले कमलालये प्रसीद प्रसीद श्रीं ह्रीं श्रीं ऊं महालक्ष्मै नम:
Note: Size of Shree Yantra May vary

INDIA SHIPPING CHARGE:
Flat shipping charge will be Rs 75.
Cash on Delivery (COD) is available above Rs. 500.
OUT OF INDIA SHIPPING CHARGE:
US$ 12 for shipment weighing upto 500 gms applicable for following countries: USA, U.K., Canada, Netherlands, U. A. E., Denmark, Italy, Poland. Belgium, France, Bangladesh, Hungary, Romania, Sweden, Switzerland, Austria, Germany, Spain, Ireland, Slovakia.
US$ 20 for shipment weighing upto 500 gms applicable to rest of the world including: Brazil, Singapore, Malaysia, Thailand, Australia, Congo, Greece, Indonesia, Latvia, Lithuania, Kazakastan, Malta, Mozambique, Norway, Panama, Reunion Island, Russia, South Africa, Taiwan, Trinidad and Tobago.
Mercury Sri Yantram - 120 Gms
Our Clients Speak