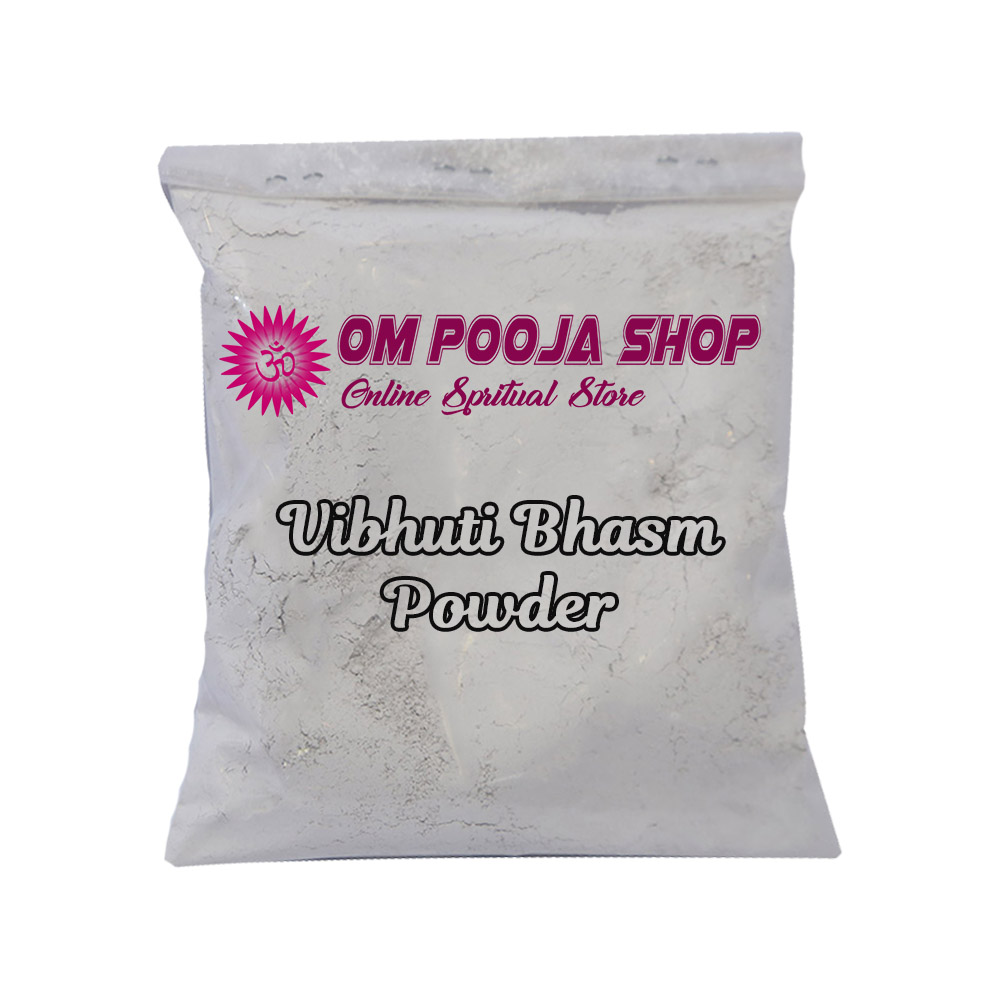 Vibhuti Bhasm / Vibhuti Powder / Bibhuti Bhasm also called holy ash. The meaning and significance of the Vibhuti (Bhasmya) consumed in the word 'Bhasam' means 'Bh' i.e. 'Bharatasanam' i.e. 'Nana Ho'. 'Sm' means the reminder Due to the consumption of sins, God is remembered by the slaughter of sins. The body is ruinous. It is a symbol of constant remembrance, it is consumed; There is a sense of such a consuming word. Vibhuti, Defense and ashes are synonyms of this consonant. There are many aspects of the use of vibhuti, devastation or sacred ashes. First, it is a great way to give energy to someone or to give it to someone. It has the ability to direct and control 'energy-body'. Apart from this, there is also a signative importance of putting it on the body. He constantly reminds us of the mortality of life, as if you were mortal on your body all the time. The method of consume is generally used by the yogi cremation ground ash taken from the land. If this consume can not be used, then the next option is cow dung. Some other substances are also used in this but the original material is cow dung.
It is used to denote the sacred ash which is made of burnt dried wood in Āgamic rituals. Hindu devotees apply vibhuti traditionally as three horizontal lines across the forehead and other parts of the body to honor Shiva. Vibhuti smeared across the forehead to the end of both eyebrows is called Tripundra. According to the MahaShiva Purana the particles of ash which cling to the sin when tripundra is applied are to be considered as individual Lingams. The scriptures further state that bhasma purifies the soul, elevates the devotee of Shiva and works done without wearing Bhasma are infructuous. There are various methods for the application of the ashes according to the purana and various mantras to be recited during application.
Another meaning of vibhuti is a 'glorious form', in contrast with Avatar, a reincarnation of Brahman. Bhagavata Theology describes a vibhuti as 'incarnation of power', which is only a temporary occasional manifestation such as when holy men are infused with divine virtues and qualities are infused. Aurobindo mentions a vibhuti as 'the hero of a race's struggle towards divine achievement, the hero in the Carlylean sense of heroism, a power of God in man.
Vibhuti Bhasm / Vibhuti Powder
Our Clients Speak