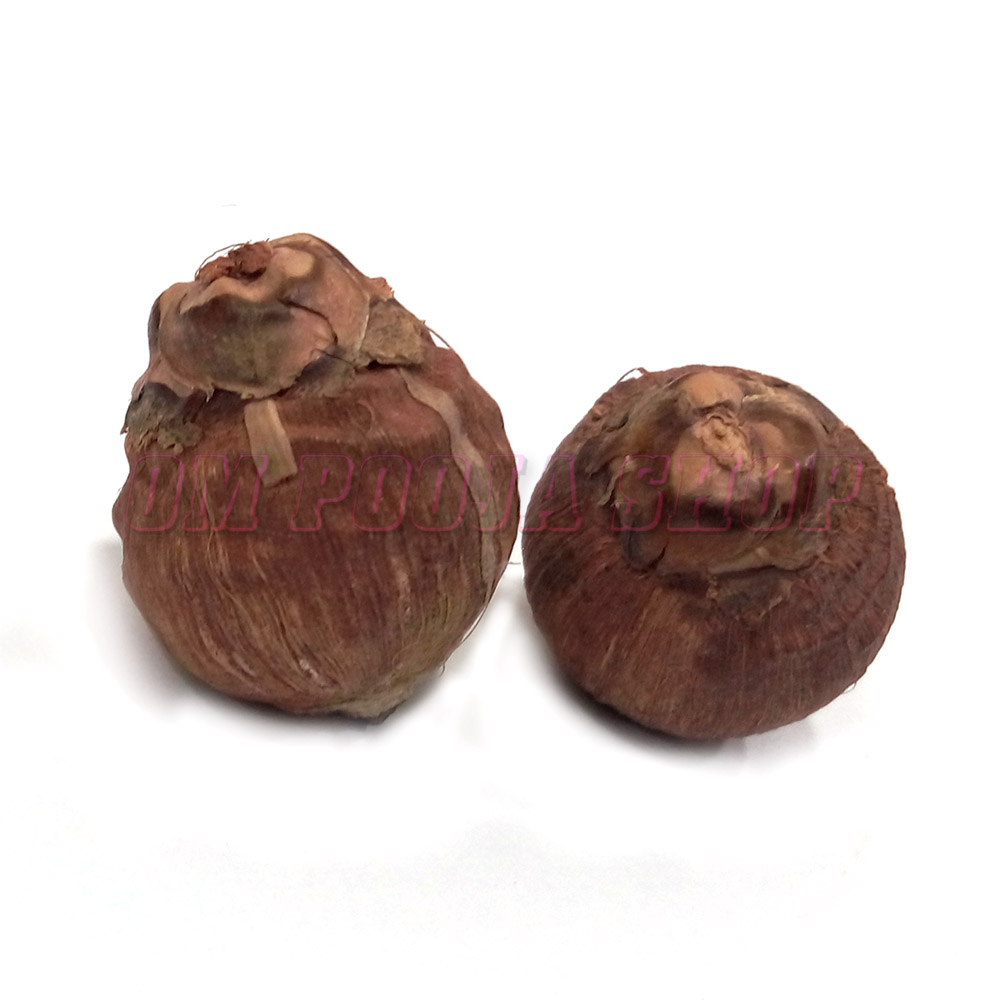 Shri Sidh Laghu Nariyal or Small Coconut is found in very little quantity near sea-shore coconut tree. This coconut is very small in shape and size. It is very rare and possesses religious importance. It is highly effective in any kind of religious puja or ritual.
Sidh Laghu Nariyal is known as the provider of wealth. It is believed that goddess of wealth Shri Lakshmi becomes happy by worshipping this small coconut. Thus, pleased Goddess Lakshmi bestows wealth and all the pleasures of life.
The shape of Laghu Coconut is like a betel nut with three eyes. Therefore, considered very rare.

Use of Siddh Small Nariyal
1- If Tantrokt nariyal is wrapped with 7 feet thread and rotate 7 times from the head of every member of family and burn it in holy fire or holika in night then it destroys the effect of blagic magic.
2- When saturn or shani is malefic in our horoscope or at the time of shani sade sati do this 11 Saturday. In a vessel full of mustard oil put a tantrokt nariyal or coconut and look into it then donate this vessel. Malefic effects of shani gets minimized.
3- If this laghu nariyal is wrapped with a black cloth piece and hanged outside the main door then it protects from evil eyes effect.
4- If there is no peace in your home then do this powerful totka on Navratri: take 9 tantrokt nariyal and wrap it with black thread and put it in the worship place. Now on every evening take 1 coconut or laghu nariyal with thread and burn it whole, do this in all 9 days you will find change in the environment of home.
5- If Siddha or charged tanrokt nariyal is put in the cash box then money loss gets minimized.
6) If you are suffering form debt then by donating this nariyal with mustard oil every Saturday in a peepal tree will help you.
7- If any lady facing problem in conceiving then do this in 9 days of Navratri : Take 11 tantrokt nariyal and chant the following mantra 108 time daily by keeping the coconut in front and on 9th day let it leave in a flowing river water.Yoga will form to have a baby. Mantra is "Om shreem putra lakshmye namah".
8- If Siddha Tantrokt nariyal is kept in business place then it helps in increasing the business.
INDIA SHIPPING CHARGE:
Flat shipping charge will be Rs 75.
Cash on Delivery (COD) is available above Rs. 700.
OUT OF INDIA SHIPPING CHARGE:
US$ 12 for shipment weighing upto 500 gms applicable for following countries: USA, U.K., Canada, Netherlands, U. A. E., Denmark, Italy, Poland. Belgium, France, Bangladesh, Hungary, Romania, Sweden, Switzerland, Austria, Germany, Spain, Ireland, Slovakia.
US$ 20 for shipment weighing upto 500 gms applicable to rest of the world including: Brazil, Singapore, Malaysia, Thailand, Australia, Congo, Greece, Indonesia, Latvia, Lithuania, Kazakastan, Malta, Mozambique, Norway, Panama, Reunion Island, Russia, South Africa, Taiwan, Trinidad and Tobago.
Laghu Nariyal (Small Coconut)
Our Clients Speak