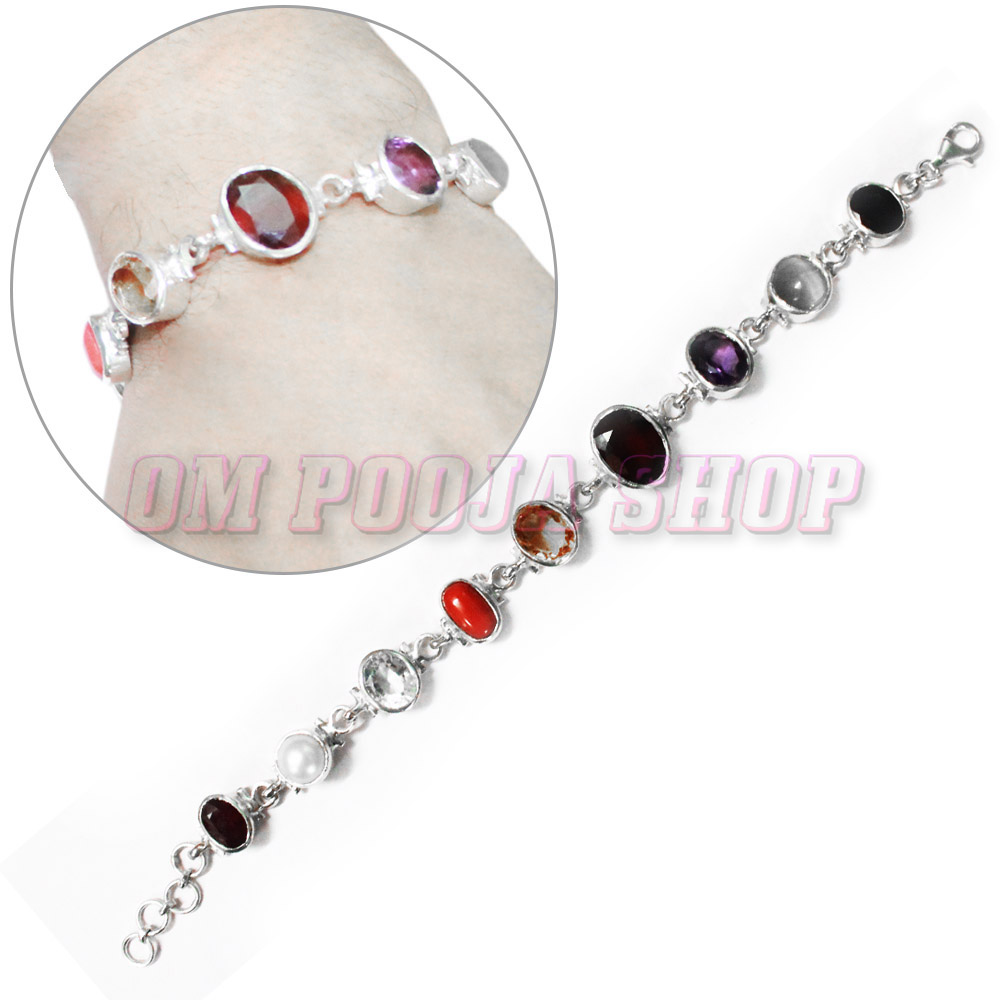 The Navagrah Navratna Bracelet made pure silver with natural gems of Crystal, Cats eye, Pearl, Ruby, Coral, Blue Sapphire, Emerald, Red Garnet and Yellow Topaz. Ruby for Sun, White Pearl for Moon, Red Coral for Mars, Emerald, Yellow Topaz for Jupiter, White Topaz/Opal for Venus, Blue sapphire for Saturn, Hessonite for Rahu, Cats Eye for Ketu. Premium & Supreme Quality includes Diamonds for Jupiter.
Detail: Made in pure silver with adjustable links and clasp.
Length: 7 inches adjustable

A Navratna bracelet helps to ward off the malefic effects of all the nine planets (Navgraha). When more than one planet is malefic in a person's horoscope, this bracelet is very useful as all the stones required to pacify the malefic effects of all the nine planets are studded in this single bracelet itself. It can be worn be anybody and any age group.
Life on earth is influenced by the navagrahas, or nine planets. The placement of the navagrahas in one's horoscope have an influence throughout an individual's life. Wearing the nine gems provide an astrological balance and benefit to the wearer. The Navaratnas/Navratnas are the sacred nine gemstones as per Vedic texts and Indian Astrology that have a profound impact on human life. These Navratnas are linked to the nine planets also referred to as the Navagrahas and are recommended after the detailed study of the Kundali/ Indian Horoscope.
Ancient Vedic scriptures and teachings have mentioned RATNAS or gems as one of the 6 pathways to alter the negative karmic life map and remove obstacles and emerge in life with the feeling of happiness and fulfilment. The Vedic gems are also believed to of a therapeutic value. The Garuda Purana and Agni Purana have discussed the Science of Gemology and characteristics of Gemstones that bring about auspicious changes in life. The Brihat Samhita has also discussed the healing properties of the various gems. And in many ancient cultures too gemstones have always been believed to have metaphysical powers.

INDIA SHIPPING CHARGE:
Flat shipping charge will be Rs 75.
Cash on Delivery (COD) is available above Rs. 500.
OUT OF INDIA SHIPPING CHARGE:
US$ 12 for shipment weighing upto 500 gms applicable for following countries: USA, U.K., Canada, Netherlands, U. A. E., Denmark, Italy, Poland. Belgium, France, Bangladesh, Hungary, Romania, Sweden, Switzerland, Austria, Germany, Spain, Ireland, Slovakia.
US$ 20 for shipment weighing upto 500 gms applicable to rest of the world including: Brazil, Singapore, Malaysia, Thailand, Australia, Congo, Greece, Indonesia, Latvia, Lithuania, Kazakastan, Malta, Mozambique, Norway, Panama, Reunion Island, Russia, South Africa, Taiwan, Trinidad and Tobago.
Navratna Bracelet in Pure Silver
Our Clients Speak