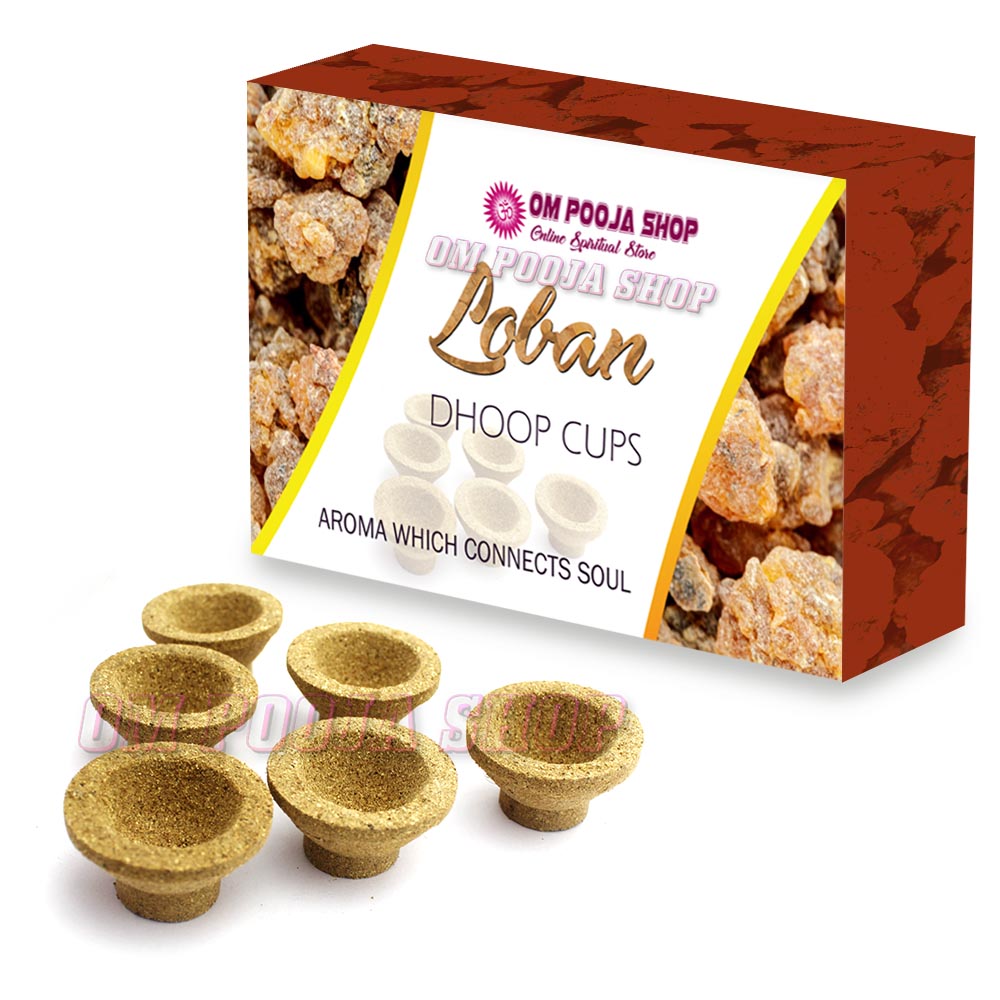 Natural Loban Dhoop Cups are ayurvedic herbal dhoop which are made using Natural Loban, essential oil and natural herbs. It has an exotic fragrance. All the ingredients of this product are purely organic, non toxic and ozone friendly. These incense have light delicate fragrances of nature. This Natural Loban Dhoop Cups fragrance provides the key to unlock. These Dhoop Cups are used of incense promotes longevity, harmonizes the psycho-physical constitution, and enhances mental focus. It is preferred over aerosol air fresheners. These products help in your prayers, yoga, meditation and in making your environment pleasant and aromatic thus contributing to peace and tranquility.
INSTRUCTIONS:
1. Hold the cup by the tip of the narrow stem.
2. Light the tip of the cup over fire, til the tip catches flame.
3. Gently blow out the flame and experience the Loban Fragrance.
4. Keep the cup on the metal plate provided along with this pack.
5. Keep the cup away from strong wind.
6. Incense holder must be placed only on fireproof and heat resistant surface.
7. Keep out of reach of children.
Size of each: 1.5 inches (top diameter) x 0.75 inch (base diameter) x 1 inch (H)
Total Quantity: 12 pcs
INDIA SHIPPING CHARGE:
Flat shipping charge will be Rs 75.
Cash on Delivery (COD) is available above Rs. 700.
OUT OF INDIA SHIPPING CHARGE:
US$ 12 for shipment weighing upto 500 gms applicable for following countries: USA, U.K., Canada, Netherlands, U. A. E., Denmark, Italy, Poland. Belgium, France, Bangladesh, Hungary, Romania, Sweden, Switzerland, Austria, Germany, Spain, Ireland, Slovakia.
US$ 20 for shipment weighing upto 500 gms applicable to rest of the world including: Brazil, Singapore, Malaysia, Thailand, Australia, Congo, Greece, Indonesia, Latvia, Lithuania, Kazakastan, Malta, Mozambique, Norway, Panama, Reunion Island, Russia, South Africa, Taiwan, Trinidad and Tobago.
Natural Loban Dhoop Cups
Our Clients Speak