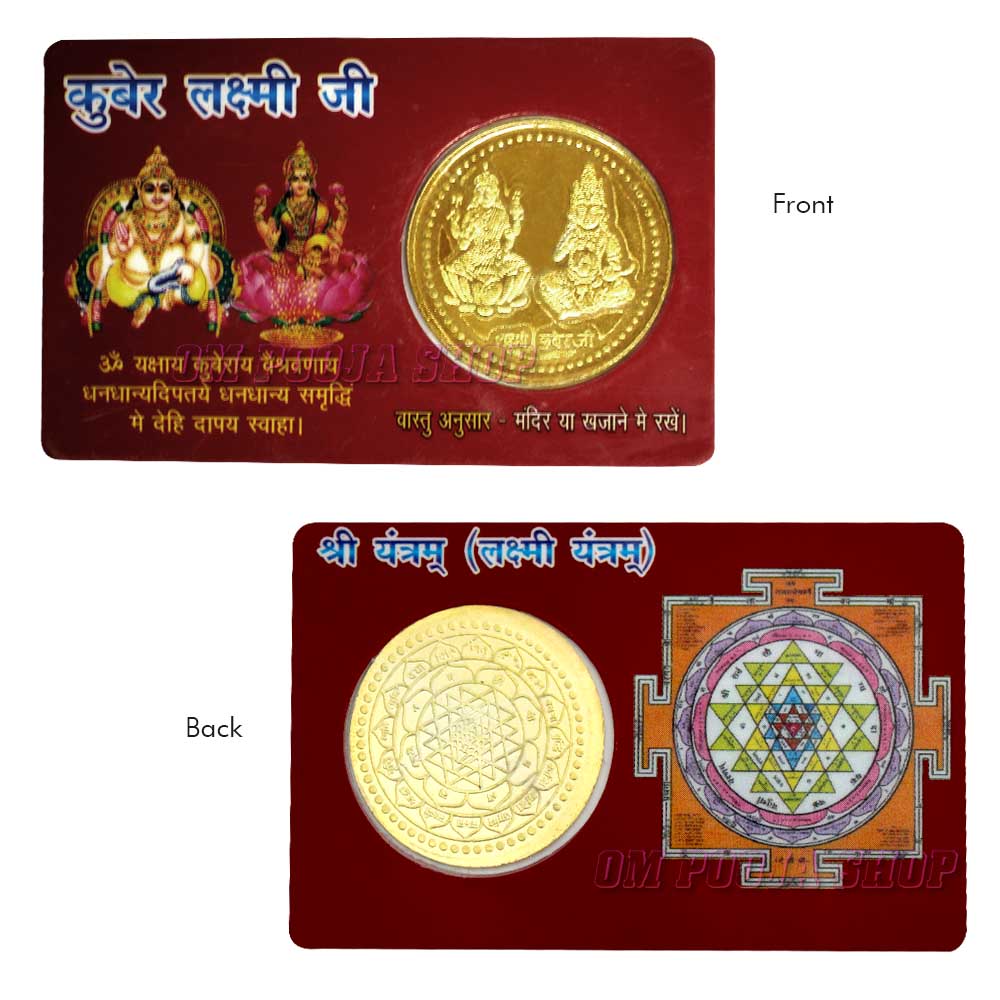 Kuber Lakshmi Yantra Coin is made in copper with gold polished. Beautifully Designed of Goddess Lakshmi and Lord Kuber Image on one side and Sri Yantra printed on other side. Goddess Lakshmi and Lord Kuber represent of wealth and prosperity. The Sri Yantra or Sri Chakra is a form of mystical diagram (yantra) used in the Shri Vidya school of Hindu tantra. It consists of nine interlocking triangles that surround a central point known as a bindu. These triangles represent the cosmos and the human body. Because of its nine triangles, Sri Yantra is also known as the Navayoni Chakra. When the two-dimensional Sri Yantra is represented in three dimensions, it is called a Maha Meru. Mount Meru derives its name from this shape. In addition to Mount Meru, all other yantras derive from the Sri Yantra.
Uses of Kuber Lakshmi Yantra Coin:
Keep in the temple or treasure according Vastu Shastra.
Dimensions: 32 mm (diameter) x 2 mm (Thickness)
Weight: 10 grams
Mantra: Om Yakshya Kuberay Vaishravdaya dhandhanyadipaye dhandhanya mamriddiam me dehi dapay swaha.
Om Shreem Hreem Shreem , Kamle Kamalalaye, Praseed Praseed, Shreem Hreem Shreem , Om Shree Mahalakshmi Namah

INDIA SHIPPING CHARGE:
Flat shipping charge will be Rs 75.
Cash on Delivery (COD) is available above Rs. 700.
OUT OF INDIA SHIPPING CHARGE:
US$ 12 for shipment weighing upto 500 gms applicable for following countries: USA, U.K., Canada, Netherlands, U. A. E., Denmark, Italy, Poland. Belgium, France, Bangladesh, Hungary, Romania, Sweden, Switzerland, Austria, Germany, Spain, Ireland, Slovakia.
US$ 20 for shipment weighing upto 500 gms applicable to rest of the world including: Brazil, Singapore, Malaysia, Thailand, Australia, Congo, Greece, Indonesia, Latvia, Lithuania, Kazakastan, Malta, Mozambique, Norway, Panama, Reunion Island, Russia, South Africa, Taiwan, Trinidad and Tobago.
Kuber Lakshmi Yantra Coin in Copper
Our Clients Speak