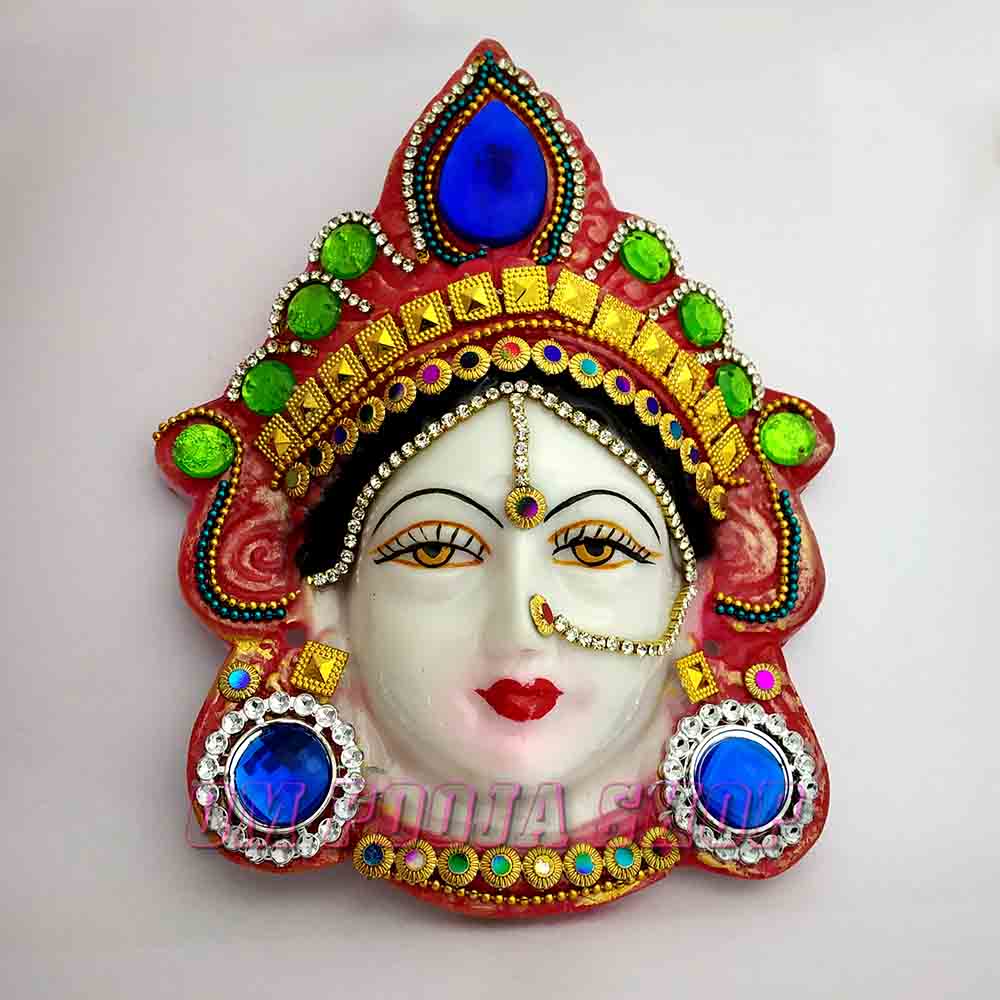 Who devotee worships Lakshmi sincerely, and not in greed, will be blessed with fortune and success. Kamakshi Laxmi Mask (Face) for Worship in Marghashirsha Pooja. This Kamakshi Laxmi Mukhavada (Face) / Mask is made of poly fiber and adorned with colorful stones, moti, kundans, jardosi lace. Mahalakmi Vrata is an auspicious day, ninth month of Hindu calendar Margashirsha, is from November to December any year. As per Gregorian Calendar Marghashirsha is dedicated to Lord Vishnu and Goddess Laxmi. In the month of Margashirsha, on every Thursday, Laxmi puja is done and fast is observed by devotees. Goddess Laxmi is known for wealth, prosperity and good fortune and it is observed by meritorious devotees. This Puja is done at home or in a temple. It is believed that performing the Marghashirsha Laxmi Puja and observing the fast will solve all problem of the devotees and goddess Laxmi will bless them with comfort, peace and prosperity.
This Goddess Kamakshi Laxmi Mask (Face) for Worship can be placed in your house/office to bring prosperity or also can be gifted to your loved ones.

Make: Made of poly fiber and adorned with colorful stones, moti, kundans, jardosi lace.
Dimensions: 6 inches (H) x 4.5 inches (W) x 1.1 inches (depth) (15 x 11.5 x 3 cm) approx
Weight: 80 grams approx
Quantity: 1 pc
Note: These products is handcrafted so design and color may slightly vary.
Important things one should know about Marghashirsha
1. The Laxmi Puja and fasting are performed by both men and women. Married couples perform it together.
2. The devotees worship Goddess Lakshmi in eight forms: Shri Dhan Lakshmi Maa, Shri Gaj Lakshmi Maa, Shri Veer Lakshmi Maa, Shri Aishwarya Lakshmi Maa, Shri Vijya Lakshmi Maa, Shri Adi Lakshmi Maa, Shri Dhanya Lakshmi Maa, and Shri Santan Lakshmi Maa.
3. The fast begins from Thursday morning – after bath prayers are offered to Lord Ganesha and goddess Laxmi.
4. The Kalash or pot must be filled with water and adorned with leaves (5 fruit tree leaves) and a coconut on the top of the Kalash. Sanctified rice and coins must be put in the pot or Kalash water.
5. The pot must be dressed with red colour cloth around it. Four lines and swastika must be drawn with Kumkum or Rangoli which indicates Chatur Veda and represent purity and prosperity in one's life.
6. As Prasad – one has to keep five fruits like apple, orange, pears, sweet lemon and pomegranate – also keep a dozen of banana in front of goddess Laxmi.
7. Decorate the tables with flowers, diyas, deepa and dhoop in front of the Kalash.
8. There is story behind the Lakshmi puja, there is one book called 'Mahalakshmi Vart Katha' which should be read during that day and also have various mantra which are recited to Lakshmi like Ashtottara,Satanamavaliand Lakshmi Sahasranama Stotra during the whole process.
9. In evening, nine varieties delicious food are made including sweets and sawaiyan.
10. On the last Thursday, every household invites atleast five women to their homes, which are considered as avatar of goddess Laxmi. The ceremonious include applying of – Haldi Kumkum following by sharing fruits like banana and aster flower.
INDIA SHIPPING CHARGE:
Flat shipping charge will be Rs 75.
Cash on Delivery (COD) is available above Rs. 700.
OUT OF INDIA SHIPPING CHARGE:
US$ 12 for shipment weighing upto 500 gms applicable for following countries: USA, U.K., Canada, Netherlands, U. A. E., Denmark, Italy, Poland. Belgium, France, Bangladesh, Hungary, Romania, Sweden, Switzerland, Austria, Germany, Spain, Ireland, Slovakia.
US$ 20 for shipment weighing upto 500 gms applicable to rest of the world including: Brazil, Singapore, Malaysia, Thailand, Australia, Congo, Greece, Indonesia, Latvia, Lithuania, Kazakastan, Malta, Mozambique, Norway, Panama, Reunion Island, Russia, South Africa, Taiwan, Trinidad and Tobago.
Kamakshi Laxmi Mask (Face) for Worship
Our Clients Speak