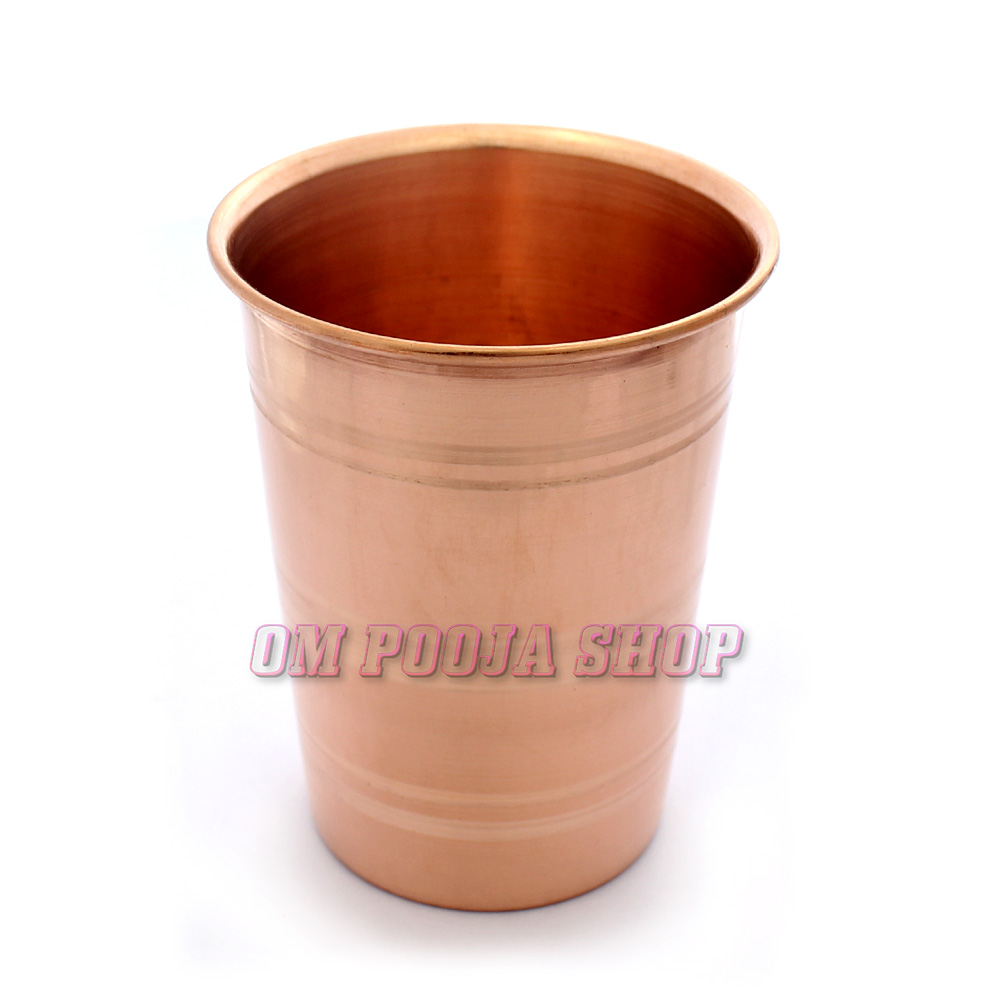 Copper very good for our health this bottle made in pure copper and given fine finish and it can store 250 ml approx water. This Glass is made in pure copper from daily use and home decoration. Used for storing water or milk used in prayer ceremony also. It is considered very beneficial for our health. It can also be used to collect divinely charged water leftover from ritual bathing (Abhishek).
Dimensions: 3.75 inches (H) x 3 inches (top diameter) x 2 inches (base diameter) approx
Weight: 70 grams approx
According to Ayurveda, water stored in a copper vessel has the ability to balance all the three doshas in your body, (vata, kapha and pitta) and it does so by positively charging the water. The water stored in a copper vessel is known as 'tamara jal' and is supposed to be consumed after storing the water in a copper vessel for at least eight hours.
When water is stored in a copper vessel, the copper gently leaches into the water and lends it all its positive properties. The best part about this water is that it never becomes stale and can be stored this way for long periods of time.
Benefit:
1 - Helps the digestive system perform better.
2 - Helps in weight loss.
3 - Helps heal wounds faster.
4 - Slows down ageing.
5 - Helps maintain cardiovascular health and beats hypertension.
6 - Copper is known to be oligodynamic in nature (the sterilizing effect of metals on bacteria), and can destroy bacteria very effectively.
7 - Stimulates your brain power.
8 - Regulates the working of the thyroid gland.
9 - Helps to remove arthritis and inflamed joints.
INDIA SHIPPING CHARGE:
Flat shipping charge will be Rs 75.
Cash on Delivery (COD) is available above Rs. 700.
OUT OF INDIA SHIPPING CHARGE:
US$ 12 for shipment weighing upto 500 gms applicable for following countries: USA, U.K., Canada, Netherlands, U. A. E., Denmark, Italy, Poland. Belgium, France, Bangladesh, Hungary, Romania, Sweden, Switzerland, Austria, Germany, Spain, Ireland, Slovakia.
US$ 20 for shipment weighing upto 500 gms applicable to rest of the world including: Brazil, Singapore, Malaysia, Thailand, Australia, Congo, Greece, Indonesia, Latvia, Lithuania, Kazakastan, Malta, Mozambique, Norway, Panama, Reunion Island, Russia, South Africa, Taiwan, Trinidad and Tobago.
Glass in Pure Copper
Our Clients Speak