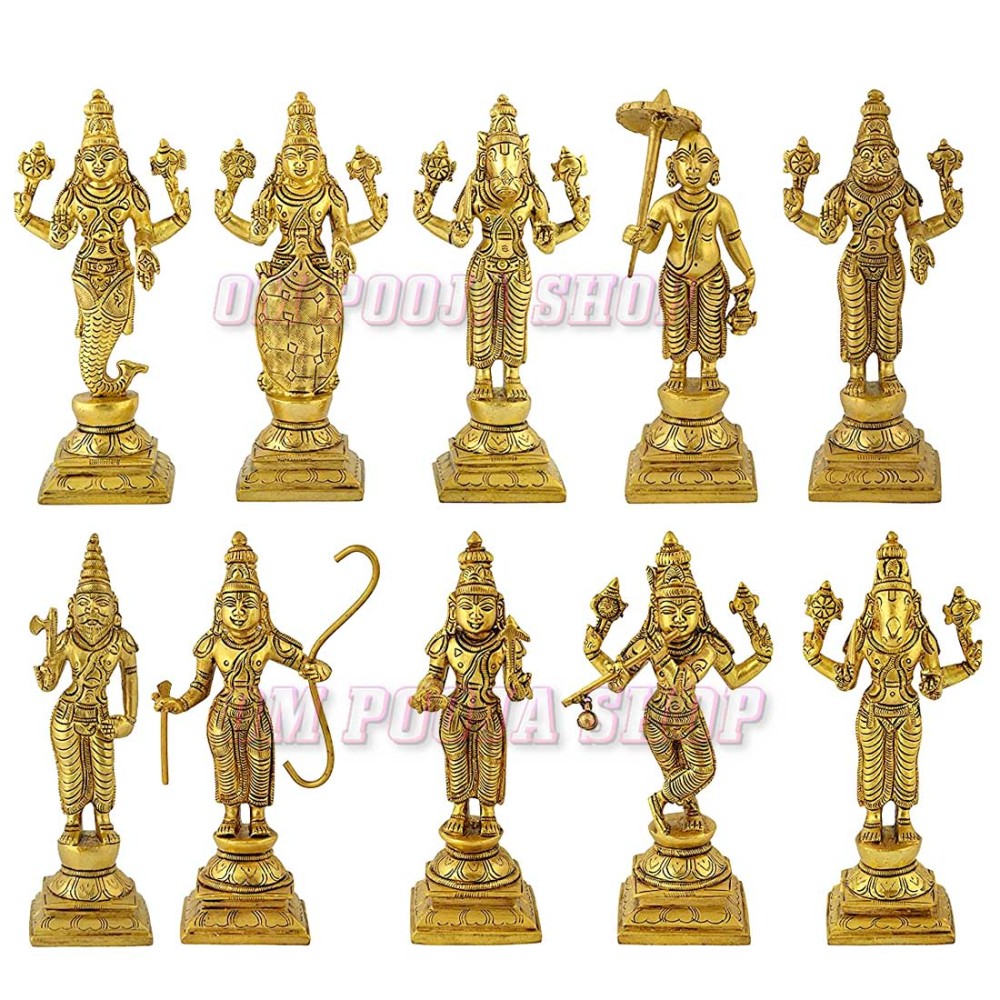 Dasavatharam of Lord Vishnu Statues is made of best quality brass with details worked by India artisan. The spiritual vibrations are attracted towards these shining idols easily. Dashavatara statues are represent ten avatars of Lord Vishnu, When the balance between good and evil tilts in favor of evil, Vishnu appears upon the earth as one of the ten Vishnu avatars or dashavatar to restore the balance.
The first four avatars (Matsya, Kurma, Varaha & Narasimha) of God Vishnu appeared in Satya or Krita Yuga (also known as the Golden Age). The next three (Vamana, Parasurama & Sri Rama) appeared in Treta Yuga, the eighth (Sri Balarama) and ninth (Sri Krishna) in Dwapara Yuga and the tenth (Kalki Avatar) will appear at the end of Kali Yuga.
Average Dimensions of statue: 6 inches (H) x 2.75 inches (W) x 1.8 inches (depth) (15 x 7 x 4.5 cm) approx
Weight: 4.4 kgs approx

INDIA SHIPPING CHARGE:
Flat shipping charge will be Rs 75.
Cash on Delivery (COD) is available above Rs. 700.
OUT OF INDIA SHIPPING CHARGE:
US$ 12 for shipment weighing upto 500 gms applicable for following countries: USA, U.K., Canada, Netherlands, U. A. E., Denmark, Italy, Poland. Belgium, France, Bangladesh, Hungary, Romania, Sweden, Switzerland, Austria, Germany, Spain, Ireland, Slovakia.
US$ 20 for shipment weighing upto 500 gms applicable to rest of the world including: Brazil, Singapore, Malaysia, Thailand, Australia, Congo, Greece, Indonesia, Latvia, Lithuania, Kazakastan, Malta, Mozambique, Norway, Panama, Reunion Island, Russia, South Africa, Taiwan, Trinidad and Tobago.
Dasavatharam of Lord Vishnu Statues in Brass
Our Clients Speak