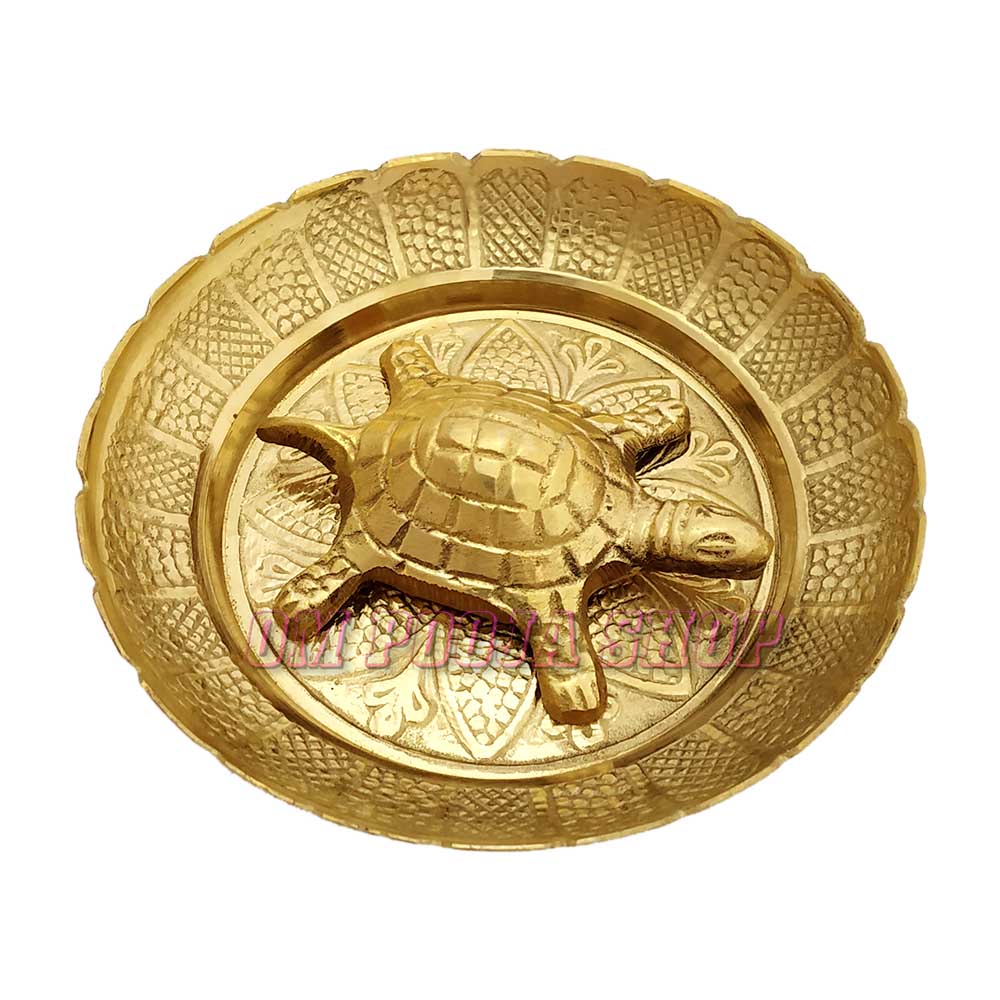 Tortoise has great significance both in Vastu and in Feng Shui. Tortoise has a long life and hence it denotes Long life. That is why it is recommended to old people for increasing their longevity.
This Beautiful Ichha Purti Tortoise (Kachua) with Plate for Good Luck Feng Shui is made of pure brass metal. The Yantra designed on Turtle belly. This yantra remove all obstacles around you and generate positive energy. This special maha yantra popularly known as the ichha purti kachua (tortoise) yantra is a symbol of lord vishnu and lord kubera and is said to be highly beneficial and auspicious if kept at businesses and work places. Tortoise has a great importance both in Vastu and in Feng Shui. Tortoise has a long life and hence it denotes Long life. Tortoise works as an aid to Vastu correction as it has tremendous power to balance and harmonize the environment around us. It is a fact that our horoscope is affected by the movements of planets and stars and by this our destiny can be affected so to remove all Vastu Dosh from your horoscope you can use this tortoise. This is able to eliminate all dosh related to Vastu. Place this ichha purti kachua (tortoise) yantra at your office, house, factory, so that it is always in front of your eyes. You will then notice the wonderful effects of this maha yantra. This business yantra removes all negative energy and fills your surroundings with immense positive energy. This is blessed by mata lakshmi and lord kuber for abundant wealth and prosperity.
Benefits of Ichha Purti Tortoise Yantra with Plate
• It helps stability for your money
• It helps remove Vastu Dosh and Generate harmonizes the aura around us
• Feng shui copper tortoise in plate for good fortune & luck
• it represents longevity
• This turtle should be placed in the north or north-east sector of your house
• Tortoise produces wonderful results to enhance career.
Dimensions:
Tortoise: 3.25 inches (L) x 2.25 inches (W) x 1 inch (H) (8.3 x 5.5 x 2.5 cm) approx
Plate: 0.75 inch (H) x 4.75 inches (diameter) (2 x 12 cm) approx
Weight: 180 grams approx

INDIA SHIPPING CHARGE:
Flat shipping charge will be Rs 75.
Cash on Delivery (COD) is available above Rs. 700.
OUT OF INDIA SHIPPING CHARGE:
US$ 12 for shipment weighing upto 500 gms applicable for following countries: USA, U.K., Canada, Netherlands, U. A. E., Denmark, Italy, Poland. Belgium, France, Bangladesh, Hungary, Romania, Sweden, Switzerland, Austria, Germany, Spain, Ireland, Slovakia.
US$ 20 for shipment weighing upto 500 gms applicable to rest of the world including: Brazil, Singapore, Malaysia, Thailand, Australia, Congo, Greece, Indonesia, Latvia, Lithuania, Kazakastan, Malta, Mozambique, Norway, Panama, Reunion Island, Russia, South Africa, Taiwan, Trinidad and Tobago.
Brass Tortoise with Plate for Good Luck Feng Shui
Our Clients Speak