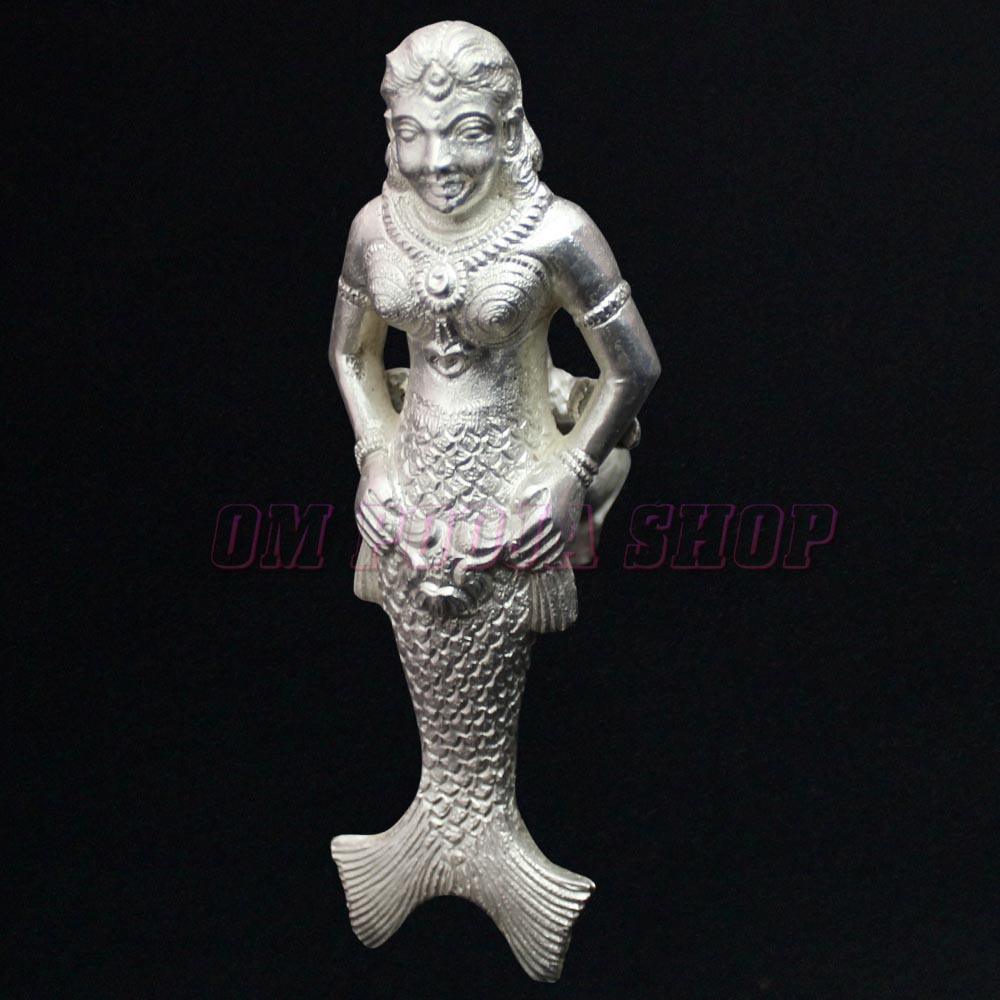 A Beautiful Handcrafted by Indian Silver Artisans Mermaid (Jalpari) Showpiece idol is made in 100% pure Sterling Silver with detail finished. This rare peace beautiful mermaid idol which hold on both hands by Fisherman. It is best for gift product and can be decor you living room or office.
Mermaid, masculine merman, a fabled marine creature with the head and upper body of a human being and the tail of a fish. Similar divine or semidivine beings appear in ancient mythologies (e.g., the Chaldean sea god Ea, or Oannes). In European folklore, mermaids (sometimes called sirens) and mermen were natural beings who, like fairies, had magical and prophetic powers. They loved music and often sang. Though very long-lived, they were mortal and had no souls.
Make: Made in pure silver.
Dimensions: 4.3 inches (H) x 1.5 inches (W) x 1 inches (depth) (11 x 3.7 x 2.5 cm) approx
Weight: 206 grams
INDIA SHIPPING CHARGE:
Flat shipping charge will be Rs 75.
Cash on Delivery (COD) is available above Rs. 700.
OUT OF INDIA SHIPPING CHARGE:
US$ 12 for shipment weighing upto 500 gms applicable for following countries: USA, U.K., Canada, Netherlands, U. A. E., Denmark, Italy, Poland. Belgium, France, Bangladesh, Hungary, Romania, Sweden, Switzerland, Austria, Germany, Spain, Ireland, Slovakia.
US$ 20 for shipment weighing upto 500 gms applicable to rest of the world including: Brazil, Singapore, Malaysia, Thailand, Australia, Congo, Greece, Indonesia, Latvia, Lithuania, Kazakastan, Malta, Mozambique, Norway, Panama, Reunion Island, Russia, South Africa, Taiwan, Trinidad and Tobago.
Mermaid (Jalpari) Showpiece in Sterling Silver
Our Clients Speak